---
PUNK
28. 8. 2008
Po anglicky toto slovo znamená nezmysel alebo výtržník. Toto označenie sa používalo pre nekvalitnú hudbu. Punk ako hnutie vznikal postupne, hoci za jeho vznik býva obyčajne označovaný rok
1976
. Predovšetkým v
Anglicku
tento štýl nebol chápaný iba ako hudobná záležitosť, ale aj ako vec životného štýlu. Punkeri sa programovo stavali proti spoločnosti a propagovali protikladný životný štýl, keď kritizovali predovšetkým pretvárku a honbu za
peniazmi
. Tento životný štýl počas krátkeho času viedol k určitej pasivite a s hnutím sa často šírili
drogy
. Sťažňovým heslom punku je
No Future!
, žiadna budúcnosť. Zo strany vyznávačov punku je možné stretnúť sa s tvrdením, že základom punku je provokácia.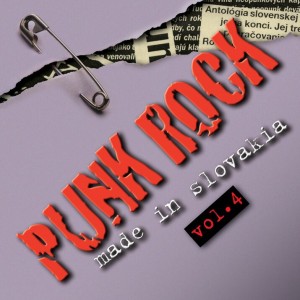 Hudobne sa punk vrátil k počiatkom rocku, tzn. využívanie jednoduchej melódie obyčajne s troma akordmi, v extrémnych prípadoch s dvoma akordmi a väčšinou so satirickým textom. Punková hudba je založená predovšetkým na textoch piesní, majú za úlohu poukazovať na súčasné problémy doby tzv. priamym rýchlym a úderným nakopávaním. Za začiatok punkového hnutia sa často považuje pôsobenie skupín Sex Pistols(rock 'n' roll) , ktorú paradoxne svojimi komerčnými myšlienkami preslávil Malcom McLaren, The Clash a Ramones. V skutočnosti sa o podobný štýl asi desať rokov dávnejšie pokúšalo viacero iných skupín, napríklad Stooges alebo Velvet Underground, ktoré sa ním nepresadili.
V bývalom východnom bloku patrila punková hudba medzi zakázané prúdy, aj tu však vznikali skupiny, ktoré ju napodobňovali, napríklad HNF a FPB. Po páde komunizmu sa tento hudobný štýl začal presadzovať aj tu.
S punkovou hudbou je spojený aj zvláštny chaotický tanec, pogo, ktorý vychádza z klasického poskakovania na mieste. S nadhľadom sa dá povedať, že pogo sa tancuje na každom koncerte popovej kapely. V súčasnosti tanec pogo nemá určené presné pravidlá. Uplatňuje sa pri ňom prudké kývanie hlavou, rozhadzovanie rukami, skákanie v rytme bicích alebo aj mimo rytmu a výrazná interakcia s ostatnými tanečníkmi. Neodmysliteľné je aj zdvíhanie ruky zovrenej v päsť.
Hlavným cieľom obliekania príslušníkov punkového hnutia bolo od začiatku predovšetkým šokovať ostatných. V začiatkoch u mnohých punkových skupín preto nájdeme svastiky. Neskôr, keď sa punk dostal do pozície odporcov fašizmu, mnohí členovia toto správanie ospravedlňovali tým, že cieľom bolo iba šokovať.
Rýchlo sa vyvinul iný štýl obliekania, ktorého vyznávači chodili oblečení v roztrhaných džínsoch a v tričku s nášivkou nejakej punkovej skupiny, často The Exploited alebo Sex Pistols. Veľmi častým doplnkom bola bunda krivák a obuv kanady. Všetko bolo doplnené veľkým množstvom spínacích špendlíkov. Punková móda vyvinula aj vlastné účesy, "kohúta"-číro, bodliny alebo rozstrapatené vlasy.
V priebehu 90. rokov 20. storočia došlo k rozvoju subkultúr a hudobných štýlov ovplyvnených punk rockom. V súvislosti s tým došlo aj k uvoľneniu vzťahu medzi hudobnou a módnou stránkou subkultúry, inými slovami každý sa správa slobodne a počúvanie najrôznejších hudobných smerov vychádzajúcich z punk rocku už nie je tak často spájaný s nejakým konkrétnym imidžom alebo štýlom obliekania.
Módne prvky oblečenia
[upraviť]
Punkeri sú špecifickí svojimi časťami odevu. Prvky na ich oblečení nie sú bezúčelné a väčšinou na niečo poukazujú.
Číro, čo je identitický znak, s ktorým sa väčšina punkerov stotožňuje a má niekoľko významov. Okrem cieľa šokovať, jeho prvý význam bol odlíšiť sa od hnutia skinheads, ktorí mali úplne vyholenú hlavu. Číro má byť aj prirovnaním k životu Indiánov a ich bezstarostnému životu pred príchodom modernej civilizácie.
Obojok, u niektorých vyznávačom punku je možné vidieť ako módny doplnok na krku väčšinou ozdobený kovovými hrotmi,pyramídkami alebo inými špecifickými ornamentami na tento štýl. Má byť symbolom poukázania na otroctvo spoločnosti všetkých ostatných štátnych zriadení a systémov bez vôle občanov sa rozhodnúť, bez toho, aby za nich museli rozhodovať iní. Či išlo o formu otroctva, monarchie, republiky,feudalizmusfašizmu alebo demokracie.
Roztrhané tričko a džínsy majú za účel provokovať v ľuďoch myšlienku, aby ich neposudzovali podľa štýlu obliekania. Prinútiť ich zamyslieť sa, či charakter človeka utvára jeho duchovno alebo zovňajšok.
Dnes sa objavuje čoraz viac ľudí, ktorí berú punk iba ako módu a nie ako životný štýl. Poukazujú tým napríklad na tzv. šampóny, ktorým sa na hlave géluje číro, čo vlastne ani číro nie je. Pravé číro je jeden jediný pruh vlasov na hlave, zvyšok hlavy je vyholený.
Ďalším prvkom sú zatváracie špendlíky - zicherky pripichnuté na odeve, ktoré majú praktický význam, oprava či zopnutie oblečenia, ktoré často naozaj drží pokope len za pomoci zicheriek alebo v niektorých prípadoch aj na výrobu "bonga" ([plast]ová flaša upravená na fajčenie marihuany), čo však časť punkerov neuznáva, lebo sloboda a nezávislosť sú predsa hlavné piliere punkovej filozofie (závislosť na drogách nevedie k slobodnému životu). Paradoxné však je, že asi 80% punkerov holduje alkoholu a cigaretám.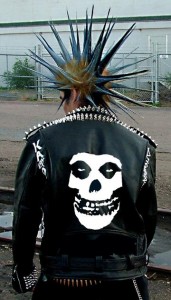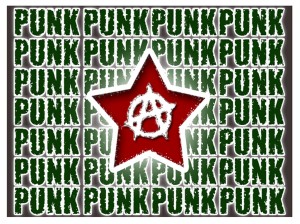 Najznámejšie punkové skupiny